About a year ago, I read
Grave Mercy
and gave it an average rating. The storyline interested me despite its shortcomings, but not enough to buy a hardcopy of the sequel, so I waited until I got it on sale for $1.99 on
Amazon.com
. After reading the first 20% of the book, I found that I enjoyed this installment much more than
Grave Mercy.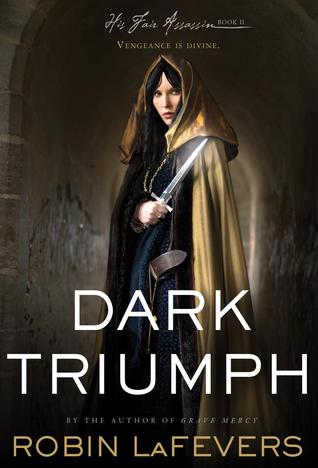 Dark Triumph by Robin LaFevers
Publisher: Houghton Mifflin Books for Children
Publish Date: April 2, 2013
Format: Kindle e-book
Genre: Young Adult, Historical Fiction, Fantasy
When Sybella arrived at the doorstep of St Mortain half mad with grief and despair the convent were only too happy to offer her refuge - but at a price. The sisters of this convent serve Death, and with Sybella naturally skilled in both the arts of death and seduction, she could become one of their most dangerous weapons.




But her assassin's skills are little comfort when the convent returns her to the life that nearly drove her mad. Her father's rage and brutality are terrifying, and her brother's love is equally monstrous. But when Sybella discovers an unexpected ally she discovers that a daughter of Death may find something other than vengeance to live for…(Goodreads)
3 things you need to know about this book:
1. Believing in Saint Mortain and the religion of the realm.
This story is a quasi-historical setting, with many pagan and mythological occurrences throughout. First, I will say that after reading Grave Mercy, I thought that it should have been categorized more as a fantasy novel than anything, but it is quite the opposite with Dark Triumph. This book was more historical fiction than fantasy. It carried less fantastical elements besides the fact that she could feel and see ghosts.
Second, the Church carries a heady weight of power during this time period, much as it does in these books; however, people and 'men/women of God' hide behind the Saints in order to further their own pagan will. Yes, this is historically accurate (though I wouldn't go ask far to say assassin nuns were), and I was glad that LaFevers began to show this power and hunger for control even among the Saints abbeys. The abbess of Saint Mortain is a dark woman. She placed Sybella back into the evil clutches of her family by tempting her with revenge just to further her own will which she claimed as Mortain's. Which brings me to my next point.
2. Sabylla and Ismae's characters.
In Grave Mercy, Ismae was the ever loyal daughter of Saint Mortain. She was close to the abbess and obeyed her every word without question as if she actually owed her and the abbey everything. As I said in my review of Grave Mercy, this bothered me the most, but Sybella is not like that. She is a rebel at heart, and she does not easily trust people -for good reason too. I think one of the reasons I loved this books more is because of Sybella's character. She was a fighter at heart. She pulled through the most dire circumstances and fought for the ones she grew to love.
3. Quasi-incest.
This is one thing I think this book could have done without where it concerns Julian. Pierre on the other hand would have been understandable because that was where the entire debacle started. But Julian did love her in that twisted way of his, but I found it odd that LaFevers ended up redeeming his character when it wasn't necessary. It frustrated me, and I wish she would have just made Julian a good character that was under the thumb of his crazy sadistic father, while Pierre could have held the sexually abusive roll towards Sybella (no one liked him anyway). I just have issues with this theme, not because I haven't read it in books before (Hello! GoT is way more twisted than this), but I don't know. I guess it is something that you will have to decide for yourself.
I obviously loved this book ten times more than Grave Mercy. First off, it wasn't near as long but just long enough despite the extremely abrupt ending (I was not expecting to see the Acknowledgment page). Great characters, and a love story that was way more near and dear to my heart than Duval and Ismae's. Also, I loved Beast de Waroch back in Grave Mercy over any other character, so yeah.


I gave this book 4 stars (really 3.5) on my
Goodreads.