I bought this book when it first came out with every intention of reading it, but somehow it got lost in my bookshelves, and I didn't pick it up until I realized that Sherry Thomas is going to be at an author event later this summer. Of course, I had to read it before I met her.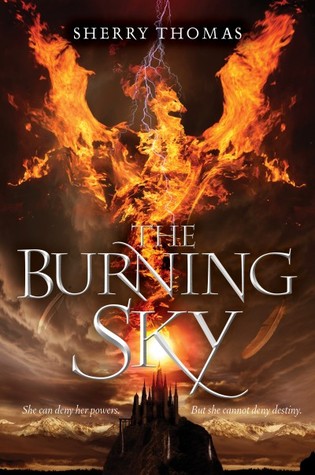 Publisher: Blazer + Bray
Publish Date: September 17th, 2013
Format: Hardback
Genre: Young Adult, Fantasy, Historical Fiction
Synopsis:

It all began with a ruined elixir and a bolt of lightning.




Iolanthe Seabourne is the greatest elemental mage of her generation—or so she's been told. The one prophesied for years to be the savior of The Realm. It is her duty and destiny to face and defeat the Bane, the most powerful tyrant and mage the world has ever known. This would be a suicide task for anyone, let alone a reluctant sixteen-year-old girl with no training.




Guided by his mother's visions and committed to avenging his family, Prince Titus has sworn to protect Iolanthe even as he prepares her for their battle with the Bane. But he makes the terrifying mistake of falling in love with the girl who should have been only a means to an end. Now, with the servants of the tyrant closing in, Titus must choose between his mission—and her life. (Goodreads)
4. things you need to know about this book:
1. The World Building
She has amazing skill when it comes to world building. This is one of the most in-depth fantasy worlds I have ever read. It got so in-depth sometimes that it was hard to understand exactly what was going on. She used a lot of terms without identifying them, or relied solely on the footnoted index in the back of the book -which I found cumbersome. However, the creativity of her world was astounding none the less! She created a world that existed somewhere between a high fantasy realm and 1800s England. Not to mention the creativity of the Crucible -a magical book that acts like a training realm for mages.
2. Style of Writing.
Her style of writing reminded me of Christopher Paolini to a T. Unlike some people, I love that style of writing. It is very descriptive and contains a high lexicon. Most of the time I have issues if words seem out of place because their rare usage, but Thomas does an excellent job at improving the reader's vocabulary and sticking to the time period with the way she writes. The large vocabulary she utilizes does not take away from the essence of the story, and I love that the most!
3. Finale
I have only one slight issue with this book. The last chapter and epilogue was a bit too factual and rushed for my taste. As soon as the climax was done, the resolution began and it was severely underdeveloped in my opinion -it was as though she was ready for this chapter of the story to be done with so she could get on to the next part. It was still good, but I wish she would have drawn it out at least another 20-30 more pages.
4. This book was not what I expected.
There were so many things in this book that I did not expect. I didn't realize that the characters were going to hop between the Domain (fantastical realm) and 1800s England. I didn't realize that the story was going to revolve around hiding Iolanthe in plain sight at Eton College -and I didn't think that a good portion of the story would take place there. Not that I found any of these things disagreeable in any way, but I was surprised.
I REALLY enjoyed this book. I read it in a few days, and loved every minute of it. Overall, it was an excellent book with a good mix of fantasy, historical fiction, adventure, action, and romance. I already intend to read the second one. The ARC is patiently waiting on my Kindle as we speak! :)