As most of you know, I don't read enough contemporary novels, nor have a read many books in the NA category. After finishing a number of novels (more like binge reading), I decided to give some of her NA books a shot.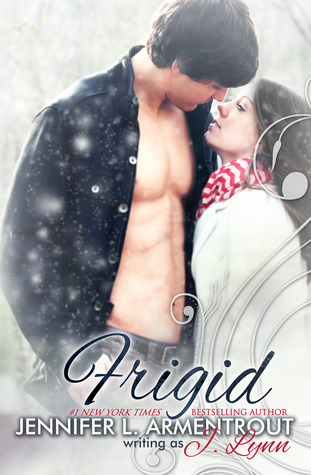 Frigid by Jennifer L. Armentrout
Publisher: Spencer Hill Contemporary
Publish Date: July 15th, 2013
Format: Kindle ebook
Genre: New Adult, Contemporary/Realistic, Romance
For twenty-one-year-old Sydney, being in love with Kyler isn't anything new. They'd been best friends ever since he pushed her down on the playground and she made him eat a mud pie. Somewhere over the years, she fell for him and fell hard. The big problem with that? Kyler puts the 'man' in man-whore. He's never stayed with a girl longer than a few nights, and with it being their last year in college, Syd doesn't want to risk their friendship by declaring her love.




Kyler has always put Syd on a pedestal that was too high for him to reach. To him, she's perfect and she's everything. But the feelings he has for her, he's always hidden away or focused on any other female. After all, Kyler will always be the poor boy from the wrong side of tracks, and Syd will always be the one girl he can never have.




But when they're stranded together at a posh ski resort due to a massive Nor'easter, there's nothing stopping their red-hot feelings for each other from coming to the surface. Can their friendship survive the attraction? Better yet, can they survive at all? Because as the snow falls, someone is stalking them, and this ski trip may be a life-changer in more ways than one. (Goodreads)
3 things you need to know about this book:
1. Cool plot.
The romance aside, the plot was still there and it was surprisingly decent. Kyler and Sydney decide to take a trip up to his parents' cabin in the mountains, and a snow storm keeps the rest of their friends from making it up there -and them from leaving the cabin. Obviously, we've all read similar books like this. Back up generators die, body heat is traded, and sexual frustration out the wazoo, right? Okay, so this book is a little generic and contains a recycled in plot, but it's still good. Throughout the week of being cooped up in the cabin, odd things start happening. Things that only a person would do in order to terrorize and frighten. It's an all around good story and kind of reminded me of Chill Factor by Sandra Brown.
2. The Romance.
Well, this one's pretty steamy, and if you're looking for one of those reads that has both plot and steaminess, this definitely will be the book for you, though I will say that the excitement of the whole plot is a little predictable. All steaminess aside, I loved the development of Kyler and Sydney's romance. They knew each other from when they were kids. It didn't feel like an insta-love story! It was gradual and showed the development even though it was mostly in the past. It was gentle and kind, and you could see that they not only loved each other but also respected one another.
3. New Adult.
Again, I don't read many NA titles, but I was glad that I read this one. I loved their age, partially because it reminded me of my own. They were about to start their last semester in college, and they had found a love worth fighting for. Yeah, it's cheesy, but my romantic heart just ate this stuff up.
Final Thoughts:
If you want a nice, steamy winter/Christmas read in the middle of the hot summer, this should definitely be on your list. It was fun and relatively short. I read it in practically one sitting. All of Armentrout's work is good, and needless to say, I am pretty impressed so far. I've read 6 of her books in the matter of 4 days.
I gave this book 3 (3.50) stars on my
Goodreads
.