Why I chose this book:
Okay so before I wrote this I decided to watch the movie trailer for
If I Stay,
and now I'm crying like a big huge baby. Why did I choose this book? So many reasons! For one, this book is one that everyone and their dog is talking about. Yes, even dogs have been found to cry whilst reading this book. When I read this book I was craving a heart wrenching read, and I knew that this would be the book for me. I was totally right. Warning, the feelings train is right around the corner.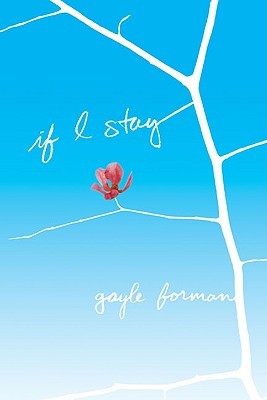 If I Stay by Gayle Forman
Publisher: Dutton Juvenile
Publish Date: April 2, 2009
Format: Kindle
Genre: Contemporary Fiction, Young Adult
Just listen, Adam says with a voice that sounds like shrapnel.




I open my eyes wide now.

I sit up as much as I can.

And I listen.




Stay, he says.




Choices. Seventeen-year-old Mia is faced with some tough ones: Stay true to her first love—music—even if it means losing her boyfriend and leaving her family and friends behind?




Then one February morning Mia goes for a drive with her family, and in an instant, everything changes. Suddenly, all the choices are gone, except one. And it's the only one that matters.

If I Stay is a heartachingly beautiful book about the power of love, the true meaning of family, and the choices we all make. (Goodreads)
3 Things You Need to Know:
1. Metaphors that make you swoon.
I could tell within the first few pages that Forman was going to be my metaphor writing homegirl. I am a sucker for a good metaphor, and goodness does she deliver. While I appreciate flowery writing, I love it even more when it adds to the plot and telling of the story. As Mia progresses throughout the story, the writing blooms as well. Together they tell a story of a girl trying to find strength when all hope is lost. MY HEARRRRTTT.
2. You will cry. YOU WILL.
Forman does not mess around when getting to the heart of the book. Your heart will be torn right from the very beginning. While this isn't a fast paced book, Forman does a splendid job of balancing the idea of tragedy and loss with flashbacks of Mia's life. You see what brought Mia to this point and you can feel exactly what she is going through. Dying is easy. Living is much harder. On top of that, Forman reminds the reader that grief is never an easy pill to swallow. While it is complex and occasionally overwhelming, it is a core part of life that is necessary for every human to experience.
3. Beauty from ashes.
One of the many things I loved about this book was the idea that beautiful things can still come from pain and suffering. While Mia's life may seem in ruins, the reader also sees a beautiful profusion of moments that have made her life so beautiful. Moments that allow her to see that life is still worth living. Everything happens for a reason, and what you do with what has been given to you is vital.