Why I chose this book:
One of my favorite types of books to read is epistolary novels. I am a girl that is all about letters, especially love letters. So when this book began to pop up on several book blogging radars, I knew I had to pick it up. Oddly enough, I wrote my own grandfather's eulogy while reading this book, so I related with the book on a whole other level.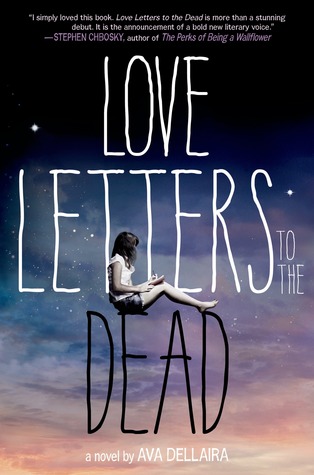 Publisher: Farrar, Straus and Giroux
Publish Date: April 1st, 2014
Format: Hardback
Genre: Young Adult, Contemporary
It begins as an assignment for English class: Write a letter to a dead person.




Laurel chooses Kurt Cobain because her sister, May, loved him. And he died young, just like May. Soon, Laurel has a notebook full of letters to the dead—to people like Janis Joplin, Heath Ledger, Amelia Earhart, and Amy Winehouse—though she never gives a single one of them to her teacher. She writes about starting high school, navigating the choppy waters of new friendships, learning to live with her splintering family, falling in love for the first time, and, most important, trying to grieve for May. But how do you mourn for someone you haven't forgiven?




It's not until Laurel has written the truth about what happened to herself that she can finally accept what happened to May. And only when Laurel has begun to see her sister as the person she was—lovely and amazing and deeply flawed—can she truly start to discover her own path.

In a voice that's as lyrical and as true as a favorite song, Ava Dellaira writes about one girl's journey through life's challenges with a haunting and often heartbreaking beauty. (Goodreads)
3 Things You Need to Know:
1. Epistolary Novel. This is a story told in letters. While I hear many a complaint about this, I really enjoyed this format and felt that it did the story justice. Sometimes you can't sort out feelings and emotions until you tell them to another person. The character of Laurel understands this as she writes letters to dead icons throughout history. Sometimes their stories give Laurel insight, and sometimes they are simply there to listen. Either way, Laurel discovers insights about her feelings, and about life around her. After all, high school is never easy.
2. All aboard the FEELS train! I had an idea about how this book would end, but I did not expect the pain and emotion that would come with it. Ugh. Dellaira definitely knows how to make you feel ALL THE THINGS. I found myself wanting to hold Laurel and protect her from life's cruelties; something that I often feel when looking back at my own teen years.
3. A place for the lovers of music, poetry, and culture. Dellaira writes so beautifully as she intertwines snippets of reality into Laurel's world. While still giving vivid and beautiful descriptions about life, love, and everything in-between, she carefully sculpts the voice of a questioning teen. Laurel's voice is authentic as it is original. While still maintaining the form of a vulnerable and broken girl, you see all the potential that Laurel has. It is equal parts lovely and heartbreaking.