A close friend of mine told me about this series months ago, declaring that it was so good and a definite must-read. I kept on putting it off and putting it off, but when I decided that I was ready for a different kind of book than the ones I had been reading I looked on Amazon. It was $2.99! I was not about to pass that up, and I'm so glad that I gave this series a chance!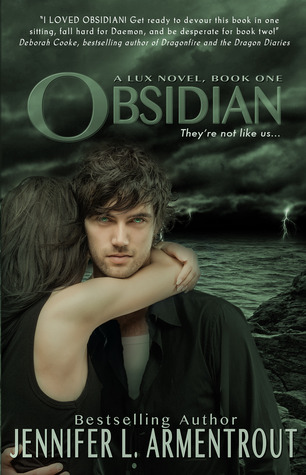 Publisher: Entangled Teen
Publish Date: May 8, 2012
Format: Kindle ebook
Genre: Young Adult, Science Fiction, Paranormal
Starting over sucks.




When we moved to West Virginia right before my senior year, I'd pretty much resigned myself to thick accents, dodgy internet access, and a whole lot of boring... until I spotted my hot neighbor, with his looming height and eerie green eyes. Things were looking up.




And then he opened his mouth.




Daemon is infuriating. Arrogant. Stab-worthy. We do not get along. At all. But when a stranger attacks me and Daemon literally freezes time with a wave of his hand, well, something... unexpected happens.




The hot alien living next door marks me.




You heard me. Alien. Turns out Daemon and his sister have a galaxy of enemies wanting to steal their abilities, and Daemon's touch has me lit up like the Vegas Strip. The only way I'm getting out of this alive is by sticking close to Daemon until my alien mojo fades.




If I don't kill him first, that is. (Goodreads)
3 things you need to know about this book:
1. You have a book blogger for a main character!
How fun is that?! I about had a cow I was so excited! I don't think I've ever actually read about a book blogger in books that I read, so I thought it was so fun! She talked about memes like Waiting on Wednesday and In My Mailbox, and it was made me squeak in joy. But along with Katy's fun bookish side, she is smart and funny and witty and sarcastic. All of those things me love her more. On top of that she had courage. She gets into some pretty sticky situations, and she doesn't hide that she's scared, but she does build up the courage to face her fears which I love. Her character was written realistically, and closer to the end of the book she sticks to her guns on decisions even if they aren't the most pleasant choices. She is a main character with standards and I LOVE that!
2. Daeman is hella sexy. Period.
That's all you need to know.
Obsidian was my first Armentrout book, and I wasn't disappointed. I was expecting an alien version of Twilight to be honest, and low and behold I discover this gem of a book. Obviously, this is a light paranormal/contemporary science fiction novel, so you have to take it for what it is, but I think I just became a really REALLY big fan of hers. I plan on reading like everything she has.
After finishing Obsidian, I immediately bought the next book, and a couple of others in a different series. I'm serious when I say that I really liked her. I feel like this series is almost a guilty read, but it's just way too good. I'm so glad my friend recommended it; otherwise, I'm not sure I would have picked it up!
I gave this book 4 stars on my
Goodreads.