Why I chose this book:
When I finished
If I Stay
, I immediately knew I had to read
Where She Went.
My heart broke for Mia and Adam at the end of the first book, and I longed to find out if they were ever able to find happily ever after. The good thing about reading oldish books is that you are able to pick up the sequel immediately after finishing the first book. So I quickly loaded
Where She Went
onto my kindle for my recent western road trip and found my heart breaking somewhere between the New Mexico and Texas border.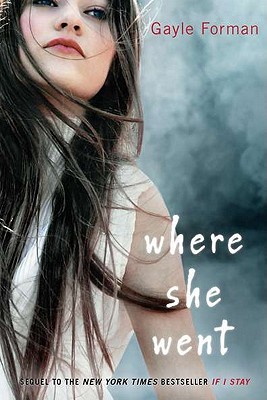 Where She Went by Gayle Forman
Publisher: Dutton Juvenile
Publish Date: April 5, 2011
Format: Kindle
Genre: Young Adult, Realistic Fiction, Romance
It's been three years since the devastating accident . . . three years since Mia walked out of Adam's life forever.

Now living on opposite coasts, Mia is Juilliard's rising star and Adam is LA tabloid fodder, thanks to his new rock star status and celebrity girlfriend. When Adam gets stuck in New York by himself, chance brings the couple together again, for one last night. As they explore the city that has become Mia's home, Adam and Mia revisit the past and open their hearts to the future - and each other.

Told from Adam's point of view in the spare, lyrical prose that defined If I Stay, Where She Went explores the devastation of grief, the promise of new hope, and the flame of rekindled romance. (Goodreads)
3 Things You Need to Know:
1. If If I Stay is about loss, this is about brokenness. While Forman created a world of pain and hurt in her first novel, she gives the reader a world of brokenness in her sequel. The story revolves around Adam years after If I Stay takes place. As a reader, I completely felt for Adam. As this lost and broken boy-becoming-man, he is angry, hurt, and directionless. I think I enjoyed this sequel much more because the emotion was so intense. There are seldom happy flashbacks as seen in If I Stay. Where She Went contains raw and unadulterated feeling.
2. Types of mourning. One of the things I greatly enjoyed was seeing Adam seek out various outlets to mourn the loss of Mia. Because things are so centered around Mia and the loss of her family in If I Stay, it is hard for the reader to relate to Adam and his feelings. Yet in this book, you can. My heart broke for Adam over and over as he sought solace from the pain in his heart. Watching Adam made me realize how he is the most human and relatable character in the novel.
3. Forman captures both sides of the grieving process—pain, and then closure. For Adam, there was no closure when Mia left. Throughout the novel this reoccurring theme of grief and closure keep popping up. I think we all tend to wonder about the unanswered questions that are left behind in the goodbyes throughout our lives. Forman shows the depth and power that closure can bring. For Adam, closure is redemptive and fulfilling, allowing him to be the man that he is destined to be.