This book has been waiting on my audiobook shelf for months. I have an increasingly bad habit of finishing the first two books in a trilogy but never finishing out the final book. I chalk it up to not wanting the adventure to end, but honestly it's also part laziness. I went through a painting craze lately and so I decided to finish up this series while listening to this gorgeous audiobook.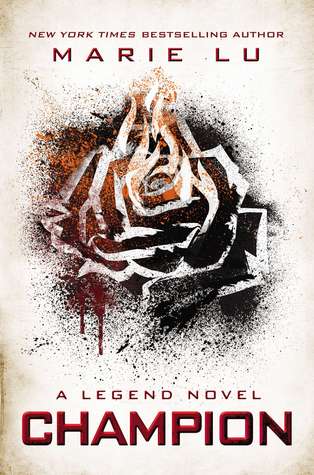 Publisher: Putnam Juvenile
Publish Date: November 5th, 2013
Format: Audiobook
Genre: Young Adult, Dystopia
He is a Legend.




She is a Prodigy.




Who will be Champion?




June and Day have sacrificed so much for the people of the Republic—and each other—and now their country is on the brink of a new existence. June is back in the good graces of the Republic, working within the government's elite circles as Princeps-Elect, while Day has been assigned a high-level military position.




But neither could have predicted the circumstances that will reunite them: just when a peace treaty is imminent, a plague outbreak causes panic in the Colonies, and war threatens the Republic's border cities. This new strain of plague is deadlier than ever, and June is the only one who knows the key to her country's defense. But saving the lives of thousands will mean asking the one she loves to give up everything. (Goodreads)
Oh my heart! This book tore it to shreds! I boohoo-ed at the end like a little baby, and fell in love with these characters all over again.
As a recap, I really enjoyed Legend, and Prodigy was a worthy second installment, so I was expecting no different with Champion.
I loved how June's character grew in terms of her friendship with Anden. I felt like that was a much needed flesh-out on Lu's part, and she did an excellent job without taking anything away for June and Day's relationship. It got a bit love-triangle-y at times, but it was crafted with such care and brilliance that I wasn't really bothered by it. Plus I also think that Day's character wasn't near so whiney and angsty in Champion (compared to Prodigy), so it wasn't as grating.
Throughout this book, I really had no idea how it would end. Things were complicated and seemed so far out of reach, which created a beautiful sense of suspense that had me at the edge of my seat the entire 10 hours.
Ahead are spoilers, so if you would like to read, highlight the following text:
Even though I absolutely enjoyed this book and June and Day's adventures, I do have one single issue with this book. Come the end, everything was wrapped up in a nice, neat, little bow. Yes, there was still war, tragedy, death, and most definitely an excellent climax, but the resolution was too pretty. Too simple and easy to accomplish.
I feel like the war ended way too easily, with and extremely simple answer to the problem that lasted for 3 books. I've talked to my co-blogger, Addison, about this quite a bit, but sometimes, I think that dystopias are way too hopeful. I mean obviously, we all love a happily ever after, but I feel like dystopias are supposed to leave the reader with the remnants of a war and the scars of distress. I plan on posting about this in more detail, but for now I will just leave it at that.
Out of everything, I loved June and Day's relationship during the last 3-4 chapters of the book, and that epilogue sent me over the crying waterfall! The fact that Day and June didn't end with living happily ever after, was the best thing Lu could have done for these characters. I love that she allowed them to start over and begin anew, because they both needed that in order for anything to work between them. Oh my heart!
Overall, I found Champion to be a wonderful conclusion to a solid 4-star series. June and Day changed as characters, and you evolved right along with them. I would highly recommend this series even for people who are getting tired of dystopias.