This book has been getting so much hype lately due to the release of the final installment. I always saw this book but never really bothered picking it up. The American cover didn't really do it for me. Now if it was the British cover, I might have. I'm not going to lie I judge a book by its cover -we all do. But after hearing Addison non-stop fangirl over this beautiful read, I couldn't not get a copy of my own.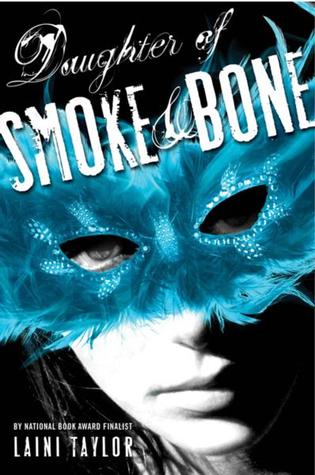 Publisher: Little, Brown Books for Young Readers
Publish Date: September 27, 2011
Format: Paperback
Genre: Young Adult, Fantasy, Paranormal, Urban-Fantasy
Around the world, black handprints are appearing on doorways, scorched there by winged strangers who have crept through a slit in the sky.




In a dark and dusty shop, a devil's supply of human teeth grows dangerously low.




And in the tangled lanes of Prague, a young art student is about to be caught up in a brutal otherwordly war.




Meet Karou. She fills her sketchbooks with monsters that may or may not be real, she's prone to disappearing on mysterious "errands", she speaks many languages - not all of them human - and her bright blue hairactually grows out of her head that color. Who is she? That is the question that haunts her, and she's about to find out.




When beautiful, haunted Akiva fixes fiery eyes on her in an alley in Marrakesh, the result is blood and starlight, secrets unveiled, and a star-crossed love whose roots drink deep of a violent past. But will Karou live to regret learning the truth about herself? (Goodreads)
My Bookish Thoughts:
First of all, let's talk about the kick ass world building skills this lady has. Oh my gosh. Astounding! Superb! [Insert third adjective here]! I was completely and utterly amazed at how in-depth her world building was, but most of all I was more in love with how she portrayed it. She introduced the reader to the chimaera world in baby steps, and not in one full-blast -which I'm sure would have ended up in Description-Overload-land somewhere out in the boonies.
She told the reader just as much about the supernatural worlds as the reader needed to know at that moment. She wasn't in a hurry, she was very languid and chill, and it was beautiful. That also went to affect her characters too. They were multi-dimensional and astoundingly different than other fictional characters I find in books.
However the thing I loved most is that this book was more than just another YA novel. I found that my English-major heart fell in love with Laini Taylor's words over and over again. This woman has a flare when it comes to writing. Her words are beautiful and they strike the chords of the soul so that you sing the same note as the MCs. Just beautiful. I found that I couldn't stop highlighting and annotating in the margins because there was just so much depth to her characters and to her story. And I rarely annotate YA novels.
Even further, her use of the theme 'Hope' is something that sent me over the edge in love with this book. I fell, and I fell hard. I'll leave you with this quotation:
"It's a wishbone," she'd told him, holding it out. "You hook your finder around the spur, like this, and we each make a wish and pull. Whoever gets the bigger piece gets their wish."
"Magic?" Akiva had asked. "What bird does this come from, that its bones make magic?"
"Oh, it's not magic. The wishes don't really come true."
"Then why do it?"
She shrugged. "Hope? Hope can be a powerful force. Maybe there's no actual magic in it, but when you know what you hope for most and hold it like a light within you, you can make things happen, almost like magic" (Taylor 288).
Overall, this was a beautiful and transforming read -in more ways than one. If you like beautiful world building and beautiful words, you need to read this book stat.
I gave this book 5 stars on my
Goodreads