All the way back in 2003 I read a book I fell in love with,
Scribbler of Dreams
by Mary E. Pearson. It was basically a Romeo & Juliet, star-crossed lovers story. It was the first story I ever reread a second time. Since then, I haven't gone out of my way to seek out her books, honestly I even forgot about Scribbler until I saw an ARC for
The Kiss of Deception
and realized it was Pearson's. I knew I immediately had to nab it from NetGalley, not only because it was Mary E. Pearson, but because the plot seemed like it was exactly what I generally love to read. I received this book free from the publisher in exchange for an honest review. This does not affect my opinion of the book or the content of my review.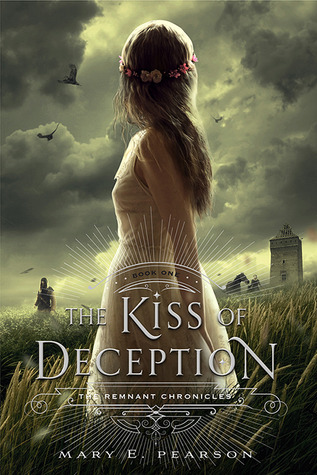 Publisher: Henry Holt
Publish Date: July 8th, 2014
Format: eARC
Genre: Young Adult, Fantasy
A princess must find her place in a reborn world.




She flees on her wedding day.




She steals ancient documents from the Chancellor's secret collection.




She is pursued by bounty hunters sent by her own father.




She is Princess Lia, seventeen, First Daughter of the House of Morrighan.




The Kingdom of Morrighan is steeped in tradition and the stories of a bygone world, but some traditions Lia can't abide. Like having to marry someone she's never met to secure a political alliance.




Fed up and ready for a new life, Lia flees to a distant village on the morning of her wedding. She settles in among the common folk, intrigued when two mysterious and handsome strangers arrive—and unaware that one is the jilted prince and the other an assassin sent to kill her. Deceptions swirl and Lia finds herself on the brink of unlocking perilous secrets—secrets that may unravel her world—even as she feels herself falling in love. (Goodreads)
3 things you have to know about this book:
1. If you're looking for a quick read, look somewhere else.
If we're being honest here, I began reading this back in March. The first 15% is the hardest to get through. There's a lot of information, traditional explanation, and setting the stage, that really became a big drag for me. I stopped reading the book for a couple of months, because I thought that it was just me being in a funk. Everyone was seeming to love this book, so I decided to give it the benefit of the doubt and come back when my mind was in the right place. Well, once I picked it back up, I finished it in a day.
Don't get me wrong, this is a long book. One of the longest I have read all year, at about 492 pages. So if you are looking for quick simple read that doesn't sometimes way you down with meaningless descriptions, this book may not be for you, but if you have patience and like extremely developed fantasy worlds with political intrigue, you may fall in love just as I did.
2. Lia is not afraid to get her hands dirty.
One things I enjoyed most about this book was Lia. She was a take-no-shit character and didn't mind getting her hands dirty in the menial tasks. I loved that Lia was never the pompous princess, she was bourn of misery, but even still, you see her change and grow and in some ways harden due to grief and strife. There is some wonderful character development that happens in this book that I just can't wait to read about in the sequel!
3. The twists! Oh! The twists!
For the most part, I thought I saw how this book was going to go. It could go one of two ways which was easy to ascertain, but then there is a twist that comes out of nowhere (until you take a second and look back because it's been building this entire time right under your nose)! I was so thoroughly happy yet confused, and I just could quite put my emotions into coherent sentences without screaming. SO GOOD. That is all.
Final Thoughts:
After I gave this book a second chance, I was glad that I did. It was worth the read, and the character development and major plot twist left me begging for the next book in the series.
I gave this book 4 stars on my
Goodreads
.