I've seen so much about this book both good and bad, but what interested me most was the rumors going around that Emma Watson would take the lead in a movie adaptation, plus this is fantasy. Every knows I like me a good fantasy read. I received this book free from the publisher in exchange for an honest review. This does not affect my opinion of the book or the content of my review.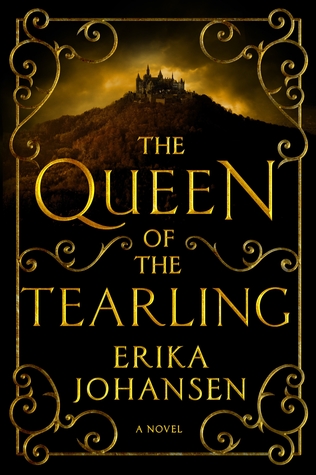 Publisher: Harper
Publish Date: July 8th, 2014
Format: eARC
Genre: Adult, Fantasy, Dystopia
Synopsis:

On her nineteenth birthday, Princess Kelsea Raleigh Glynn, raised in exile, sets out on a perilous journey back to the castle of her birth to ascend her rightful throne. Plain and serious, a girl who loves books and learning, Kelsea bears little resemblance to her mother, the vain and frivolous Queen Elyssa. But though she may be inexperienced and sheltered, Kelsea is not defenseless: Around her neck hangs the Tearling sapphire, a jewel of immense magical power; and accompanying her is the Queen's Guard, a cadre of brave knights led by the enigmatic and dedicated Lazarus. Kelsea will need them all to survive a cabal of enemies who will use every weapon—from crimson-caped assassins to the darkest blood magic—to prevent her from wearing the crown.




Despite her royal blood, Kelsea feels like nothing so much as an insecure girl, a child called upon to lead a people and a kingdom about which she knows almost nothing. But what she discovers in the capital will change everything, confronting her with horrors she never imagined. An act of singular daring will throw Kelsea's kingdom into tumult, unleashing the vengeance of the tyrannical ruler of neighboring Mortmesne: the Red Queen, a sorceress possessed of the darkest magic. Now Kelsea will begin to discover whom among the servants, aristocracy, and her own guard she can trust.




But the quest to save her kingdom and meet her destiny has only just begun—a wondrous journey of self-discovery and a trial by fire that will make her a legend…if she can survive. (Goodreads)
I guess I'm not going to get an invite to the cool-kids club because I absolutely LOVED this book. I found everything about it utterly entrancing and beautifully written!
First, I feel obligated to state that this is NOT a young adult title. It's a coming of age story, yes, but this should in no way be confused with other YA titles such as Graceling or Throne of Glass. That is not to say that this book wasn't absolutely spectacular! I just feel that I do need to warn readers about some of the content in this book. So I will hash that out before I go into the bulk of my review.
This book reminds me of the Song of Ice and Fire series by George R.R. Martin in shock value (not in any other way, I assure you). There is quite a bit of harsh language -though it was realistic, understandable, and not out of place. There is quite a bit of rape, prostitution, and slavery throughout the book. And sex is talked about rampantly, but again it doesn't feel out of place. I felt that everything mentioned, though terrible as it was, was warranted and imperative to state so that the reader understands just what kind of world this is.
As for the story itself, I was entrancing from the first page! It starts off with a bang and continues until the last page of the book. I didn't want this to end. I wanted to read all of the books, but alas, I have to wait for the next one to come out. This book is full of court intrigue, loyalty, betrayal, murder, good vs. evil with a healthy spattering of gray areas.
I will say that this is not your normal high fantasy book. This is actually something between a dystopia and a utopia. If I remember correctly this happens about 500 years after the fall of America and Britain and a man named William Tearling created a middle-ages utopian society, and obviously through the evolution of this new utopia, it became more of a dystopia. I found that to be one of the most unique things about this book, but sadly this wasn't extremely fleshed out. You don't know what happened to America or Britain, or why they fell, you don't know why they all decided to form this utopian society. It's all very clouded and unclear, but it doesn't really take away from the story.
Like I said, though this is not a YA title, this is a coming of age story. Kelsea is 19 and is the heir to the Tearling throne. She was smuggled away at her birth because of threats against her life. When it comes time to assume the throne, she travels with a group of rough-around-the-edges men (the Queen's Guard). It's up to Kelsea to prove her worth as not only a person, but a queen as well.
What I loved most about this book is that you watched Kelsea grow from being this young girl to a woman, a queen, and a leader. It was an astounding transformation, and along the way you see how she affects people in her Guard (Lazarus was my favorite character, and I loved when they bantered) as well as the people she governs.
Overall, I felt like this was an absolutely fantastic fantasy novel. It had action hiding around every page corner, and characters that you cared for so deeply that you couldn't help but allow a few tears to fall come the end of the book.
I gave this book 5 stars on my
Goodreads
.