I saw hype for this book before it was released, and I knew I had to have it. I didn't get an ARC for it, so once I finally got my summer paycheck this was my first buy. And I'm so glad I actually bought a physical copy of this book!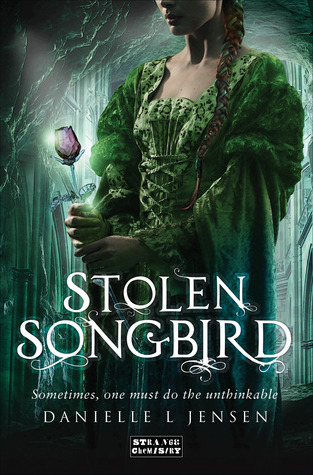 Publisher: Strange Chemistry
Publish Date: April 1, 2014
Format: Paperback
Genre: Young Adult, Fantasy
Synopsis:
For five centuries, a witch's curse has bound the trolls to their city beneath the ruins of Forsaken Mountain. Time enough for their dark and nefarious magic to fade from human memory and into myth. But a prophesy has been spoken of a union with the power to set the trolls free, and when Cécile de Troyes is kidnapped and taken beneath the mountain, she learns there is far more to the myth of the trolls than she could have imagined.
Cécile has only one thing on her mind after she is brought to Trollus: escape. Only the trolls are clever, fast, and inhumanly strong. She will have to bide her time, wait for the perfect opportunity.




But something unexpected happens while she's waiting – she begins to fall for the enigmatic troll prince to whom she has been bonded and married. She begins to make friends. And she begins to see that she may be the only hope for the half-bloods – part troll, part human creatures who are slaves to the full-blooded trolls. There is a rebellion brewing. And her prince, Tristan, the future king, is its secret leader.




As Cécile becomes involved in the intricate political games of Trollus, she becomes more than a farmer's daughter. She becomes a princess, the hope of a people, and a witch with magic powerful enough to change Trollus forever. (Goodreads)
My Bookish Thoughts:
I'm going to preface this review by saying Stolen Songbird is definitely one of my top five favorite reads of the years. I loved this book with every ounce of my being. I didn't want it to end. I even put of reading the final 100 pages for a few hours because I didn't want to finish and realize that I would have to wait nearly a year for the second book to come out.
The characters and world in this novel is amazing! I've never read a book about trolls. Yes, I've read of trolls, such as those in Lord of the Rings and books like that, but nothing that pertained specifically to trolls. This provided a really unique spin on this genre, and I loved every moment of it.
And for once this is a book that didn't contain insta-love! But to watch their love grow was a wonderful thing. It was beautiful yet also flawed, and it grew not in attraction (though that was definitely part of it), but it also grew in respect and admiration, which you don't see very often in YA lit.
Cécil (the MC) is a wonderful character in and of herself. She doesn't necessarily start off as a weak woman, but she grows exponentially throughout the bulk of the novel. Trolls are inhumanly quick and strong and have magic that could crush humans to dust, but by the end of the novel she has a drive and desire to help others that is beautiful! By the end, her strength of character outweighs the physical strength of the trolls. Talk about some fantastic character development.
Overall, this is one of my new favorites, and I will forever sing its praises! I can't wait for the sequel in the series to come out so that I can fall in love with this story all over again! If you enjoy a fantasy read that carries hints of Beauty and the Beast and something so uniquely and wholly its own, Stolen Songbird is definitely for you!
I gave this book 5 stars on my
Goodreads
.