Immediately after finishing Ugly Love by Colleen Hoover, I had to get another one of her books, and that damn "Buy Now with 1 Click" button that Amazon puts on just the most tempting books (which happens to be all the books) just called my name… and loved every second of draining my already depleted bank account.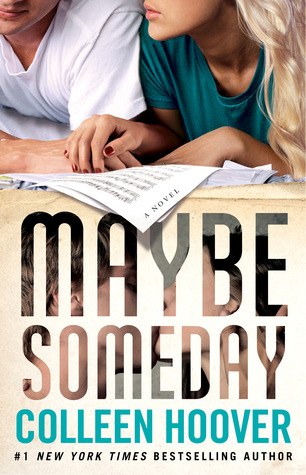 Publisher: Atria Books
Publish Date: March 18th, 2014
Format: Kindle
Genre: New Adult, Contemporary/Realistic Fiction
At twenty-two years old, Sydney has a great life: She's in college, working a steady job, in love with her wonderful boyfriend, Hunter, and rooming with her best friend, Tori. But everything changes when she discovers Hunter's cheating on her--and she is left trying to decide what to do next.




Sydney becomes captivated by Ridge, her mysterious neighbor. She can't take her eyes off him or stop listening to the passionate way he plays his guitar every evening out on his balcony. And there's something about Sydney that Ridge can't ignore, either. When their inevitable encounter happens, they soon find themselves needing each other in more ways than one... (Goodreads)
I felt like there were some characters that weren't fleshed out completely. Namely Bridgette. She was rude, mean, and well… a bitch, but there was no reason for it. I didn't understand why she was the way she was or why Warren was so head over heals for her. That's an extremely minor complaint, but she was in the book enough for me to question the lack of background I knew about her.
The love story. God that love story. I liked how it evolved. It didn't feel like insta-love at all. It was gradual even though the attraction was always there. I found Sydney's character so genuine and kind. There really wasn't an ounce of cruelty or meanness in her body even though many of the people around her expected that to come out. I really liked that about her character, and she never strayed from it, which I appreciated.
Ridge. Oh, be still, my heart! Ridge! He was utterly my favorite part about this book! Not only was he just an absolute sweetheart, but I think what made him stand out so beautifully in this story is the fact that he was deaf.
My mother works in Disability Services at a college where a large percentage of the students are deaf or have some form of hearing disabilities which require interpreters. Even her boss is deaf, so being familiar with her job and coworkers, I loved the fact that Ridge was deaf. Even though I know a bit about the deaf community and have interacted and know a bit of ASL, reading about Ridge and how he never let it keep him from doing what he wanted really just touched my soul in a profound way. I loved how Hoover didn't let it deter from the story and explain away being deaf as a not so bad thing. She showed the times that Ridge got frustrated with communication challenges and miscommunication, but it was never negative; it was just neutral and what life dealt him.
I absolutely adored this story. It was endearing and very heart felt. Along with all the music by Griffin Peterson, the comparison of book and music brings it to a completely new kind of interaction between novel and reader. You can check out his music
here
. I would highly recommend this book, especially for lovers of the contemporary genre, but even people who don't really like contemporary. I generally don't count myself as a contemporary genre lover, but Colleen Hoover may have just made me a convert with her work.
*Also there as an absolutely beautiful written epilogue online by Colleen Hoover that you should read if/when you finish this book. You can check it out
here
.