Do I really even need to answer this question? I have been waiting all year to read this book. I began this series when only Throne of Glass was out. I think I've waited long enough lol.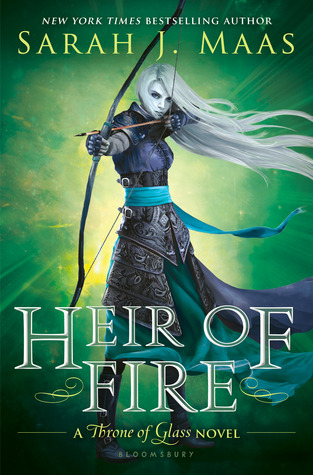 Publisher: Bloomsbury
Publish Date: September 2nd, 2014
Format: Hardback
Genre: Young Adult, Fantasy
Lost and broken, Celaena Sardothien's only thought is to avenge the savage death of her dearest friend: as the King of Adarlan's Assassin, she is bound to serve this tyrant, but he will pay for what he did. Any hope Celaena has of destroying the king lies in answers to be found in Wendlyn. Sacrificing his future, Chaol, the Captain of the King's Guard, has sent Celaena there to protect her, but her darkest demons lay in that same place. If she can overcome them, she will be Adarlan's biggest threat – and his own toughest enemy.




While Celaena learns of her true destiny, and the eyes of Erilea are on Wendlyn, a brutal and beastly force is preparing to take to the skies. Will Celaena find the strength not only to win her own battles, but to fight a war that could pit her loyalties to her own people against those she has grown to love? (Goodreads)
My Bookish Thoughts:
I can't even put this review in the normal bookish likes and loves sections, because it was all love for this book, so you're just going have to deal with my ramblings and whispers (and most of the time screams) of love for this book.
Heir of Fire. Where do I begin? I thoroughly enjoyed the various points of view in the book. It was different this time because everyone was in different areas on the map, but I liked it all the same. Through this, I think Maas' best writing came through.
Her characterization is spot on in this book! I thought I knew all there was to know about characters like Celaena, Dorian and Chaol, but no, I was wrong. She fleshed them out even more if that's possible, while adding characters that you also fell in love with just as much throughout the book. Aedion was a favorite of mine as was Sorscha and Manon, but above all else my love for Rowan prevails.
So let's spend a little time chatting about that sexy beast of a man. This will be a bit spoilerish, so don't read the text (which you can highlight in order to read) if you have not read Heir of Fire.
SPOILERS!
Above all characters I fell in love with this male from the get-go. He was a complete and utter jerk in the beginning, but you knew that there was way more to him than initially met the eye. As you got to know his character and background, and you saw how Rowan's experiences have affected him just as Celaena's had, you understand a lot more about who these characters are.
For the longest time, I wanted Celaena to end up with Chaol, and when they had their big blow out in Crown of Midnight, I didn't truly understand why. After reading HoF, I completely understood.
Celaena didn't need a person like Chaol. He was good for a time, yes, but he is not like Celaena, and the balancing effect won't work that way with them. Chaol sees things in black and white, fealty, treachery, wrong and right, but in reality, Celaena sees things as how they are: in various shades of gray with no distinct lines. Chaol feared her darkness and anger and difference, while Rowan helped her embrace it and walked through that darkness with her.
Rowan is the antithesis of Chaol in every way. He's dark, dangerous, controlled chaos, yet just as Chaol is loyal, so Rowan is fiercely loyal to whomever he pledges himself.
I felt that Rowan's character became that weight at the other end of Celaena's scales. He balanced her out. The windy coolness to her raging fire. He challenged her in way Chaol never could, and he trusted her with his very life, which is something I think even Chaol would be extremely hesitant to do at the end of HoF.
I think all of this discovery created an intimacy to this book that I've never read in any of her previous books. I can't explain what that did to my emotions. So good.
Needless to say, I love Rowan's character and how Maas created him to be the antithesis to Chaol and the one to balance out Celaena.
END OF SPOILERS
I also loved the country of Wendlyn. There were so many things going on politically that I found fascinating! Everything between human, Fae, and demi-Fae was a perfect addition to the magical setting of Wendlyn. Also, humans from Adarlan see Wendlyn as this safe haven, but honestly it's not. It has monsters just as scary and vicious as the human ones back in Adarlan.
Furthermore, let's talk about the newest (very large) addition of Manon Blackbeak's point of view. I have only the vaguest of ideas where this is heading, but I can't wait because I know this means that so many other characters and places mentioned in The Assassin's Blade will come into play in the coming books. This also gives us more of an idea of the culture of the Ironteeth witches that we glimpsed in Crown of Midnight with Baba Yellowlegs. These Ironteeth Witches are no freaking joke. I would never want to meet one at any part of the day alley or no, but man do I really like Manon and Abraxos.
Overall, I felt like this was her best book to date. It lacked a bit more in suspenseful action than say Crown of Midnight (which seemed to me to be nonstop action), but it completely made up for it in the beautiful characterization of Celaena, Chaol, Dorian, Rowan, and Manon. I don't know how I'm going to make it another year until I can get my hands on a copy of Book 4. It's going to be a very long year.
I gave this book 5 stars on my Goodreads.